When I open my post I See… I started with a Tom Nelligan photograph of Branford Steam Railroad hopper cars. That photo is absolutely a favourite photograph. I was looking at it again today and thinking about how much railroads like the BSRR and the Kelley's Island Lime & Transportation have guided my rolling stock purchases. I have the On30 shays and those nifty four wheel side dump hoppers because of the KIL&T but the hoppers and occasional visions of future layouts because of the BSRR.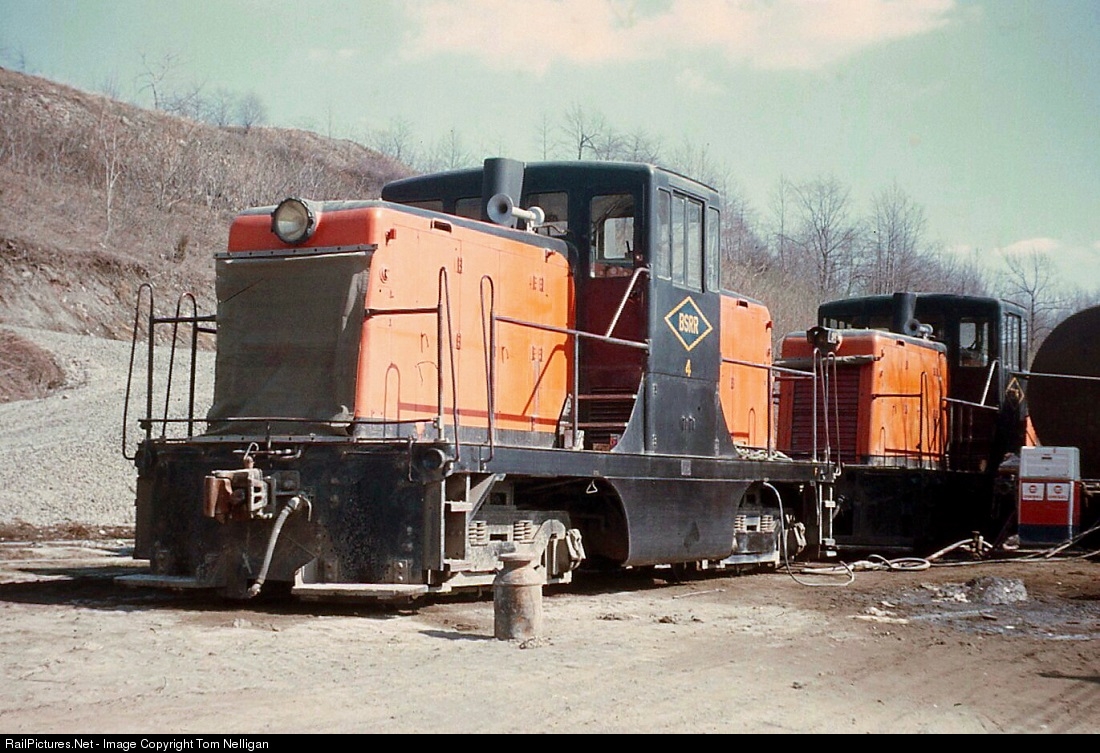 Another Tom Nelligan gem. This time two of the BSRR 44 tonners. You couldn't ask for a collection of neater details. I love how they are using a New Haven-inspired paint scheme. Those orange hoods and black or dark green cabs and sills is, I think, one of railroading's finest paint schemes–even if I never modelled BSRR or New Haven I'm an easy touch for things decorated in this paint scheme. And check out that gas pump just to the back right of the photograph–what a cool detail.
The BSRR today runs larger power but when they first dieselized they ran with a full set of 44 tonners and a photo like the above is representative of that fleet. On a model railroad and because my head has been in On30 a lot this year it's easy to imagine how those neat Bachmann Whitcombs could substitute for the fleet until I give into my craving to finally produce some drop-cab 44 tonners like CN bought from GE for Newfoundland. Either way, in any version of this outcome, it looks like centrecab diesel time and that's alright. One detail I would communicate in a model railroad would be to not have the model engines "consisted" in the DCC system or imply they could be "MU'd" together. I'd want them models to have to be driven separately and like the idea of an operating session with a friend–if we need to run more than one engine to lift rocks from the quarry we could work together with our respective engines to do that. I think that sounds like fun (playing together). I'd build a layout that does that.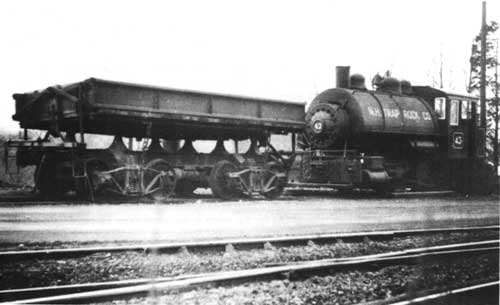 I only have two of the big steel twin hoppers but I've got a whole bunch of wood side dump cars. They're super cool looking and a connection to that childhood discovery of the KIL&T in the pages of Railroad Model Craftsman. The BSRR also used four-wheel cars too. In the photo above, though, it's an eight-wheel car. I'll confess that I'm not as interested in the look of it though it is a pretty cool connection to craving those operating side dump cars Life Like used to sell in HO scale.
The oldest engine in my collection is an old Varney Docksider. Old because like me, well, it is. Old also because I've had it since I was probably eight years old. I love this thing and am proud that it's still with me. I've owned a lot of saddletank engines like this one because I've owned this one and it has outlasted almost all of them.
That Bill Volkmer photo shows two of the BSRR saddletanks. My affection for my own little tank engine is so strong that when I opened the pages of RMC and first saw the BSRR the magic spark was easy to light. Connection, connection, connection. I have the Bachmann On30 Porters and still really want one of the Grandt Line saddletank kits.
---
In several photos of the BSRR, I've posted above, equipment is lettered for the BSRR's parent company, the New Haven Trap Rock Company.
I love having this blog here to talk to when I need a few moments of escapism to consider things abstract, trivial, and personal merit. I'm not building a model railroad recreating any of this, well not until we finally find that house, and while there are parallels between models I collect and prototypes like these their coincidence not strategy.
I think what I needed most from this post was a place I could return to quickly to reconnect to a tap like this and feel reset when I feel apart. Model trains and photographs of favourite real trains are no more a cure than Tylenol cures a headache but it sure makes things a lot more comfortable when you need it most.
Chris
---
---
Categories: How I think